Welcome to 'a casa di Antonella', the best accommodation for your Rome holidays!

Are you about to come on holiday in Rome?
Are you looking for affordable accommodation in Rome?
Would you prefer to rent an apartment in Rome all for you?
Then you will find nothing better than to stay at the apartment 'A casa di Antonella' in Rome, a friendly and comfortable vacation rental located on Via Tuscolana next to 'Colli Albani' underground station, a shopping area and central well served by public transport.
Just the location of the apartment 'A casa di Antonella' will allow you to pleasantly and comfortably visit the Eternal City.
Unnderground station 350 meters, bus to the Colosseum in front of the house, Tuscolana train station 750 meters: 'A Casa di Antonella' is strategically placed to accommodate you during your vacation in Rome!
Among the many offers of tourist accommodation for holidays in Rome, short rental apartments, holiday homes, bed&breakfast, not to mention all the other more or less cheap accommodation you can find in Rome, you will hardly get all in one solution the same benefits you can find at "A casa di Antonella" tourist apartment in Rome...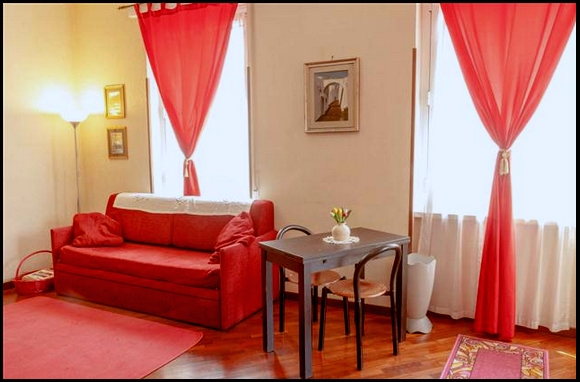 • PRICES... it will not be easy to find so competitive prices in Rome, in a central area of the Eternal City.

• EQUIPMENT... internet wi-fi, air conditioning, elevator, LCD TV, home appliances, balcony.

• LOCATION... not far from the Basilica of St. John Lateran, the metro station is just 350 meters away and the bus to the Colosseum, Trevi Fountain, Spanish Steps, etc. stops right outside the house.

• HOSPITALITY... a friendly welcome is an added value that we offer to our guests.